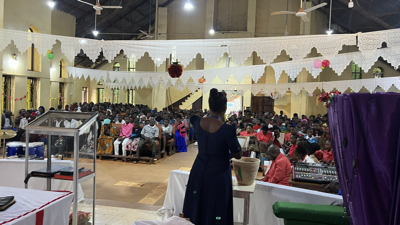 There is not much to report about Saturday as we just took it easy and did some catch-up from our travels.    I did go to Lake Tanganyika College to deliver the new computers we brought with us.   But it was a short visit to just check on things.    Monday I'll hit the ground running on helping setup the new systems and offer some training in configuring them for use with their network.   
Today was a different story.   We were quite busy with worship services at Marusi Church, which is on the east side of Kasulu.   Marusi Church is one of my favorite churches to visit.   I've been here many times.   However, this time I was asked to be the guest preacher for their 6:30 and their 9:00 services.   You might ask, why some much time between services?   It's simple.   There is very little time between services.   The 6:30 service started on time and ended at about 8:40.   The 9:00 service was even longer.  It ended shortly before noon.    Such are worship times in Tanzania.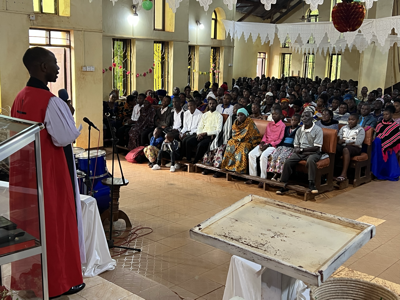 About the guest preaching – I got a text message from Bishop Emmanuel Bwatta on Saturday morning.  His message asked if I was comfortable with preaching at both services.   The folks at Marusi asked for me specifically.   Wow!  That was an honor and privilege for sure.   I thought about it and decided to accept the invitation.   I knew I did not have a lot of time to prepare, but when you are asked to serve, you serve!   Cathy and I also prepared a couple of songs to sing during the service.   One is called Forever Reign, the other is called God So Loved.   Both are pretty up-beat songs.   I try to keep to those types of worship songs because the people here are quite animated in their praises and love to sing and dance during worship.   I really wish you could experience it at least once.  Sunday worship is a joyous celebration in this part of the world.
So, back to the sermon.   I chose the gospel for today form the ACT Prayer Book, which is John 8:12-20.    I focused on verses 12 – 14 below:
Again Jesus spoke to them, saying, "I am the light of the world. Whoever follows me will not walk in darkness, but will have the light of life." So the Pharisees said to him, "You are bearing witness about yourself; your testimony is not true." Jesus answered, "Even if I do bear witness about myself, my testimony is true, for I know where I came from and where I am going, but you do not know where I come from or where I am going.
I won't go into the details, but I can report that the message was well received and appreciated.  
So now it is early evening and it's just about dinner time.   I'll end here for this posting.   Thank you all for your prayers while we are here in Tanzania.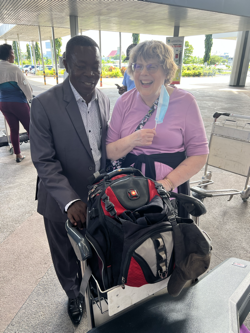 4:35 PM – Sorry for the delay my friends.   Travel takes a couple of days to get to Kasulu and we did not have much time to write anything besides a couple of Facebook posts.  So, Safari Njema!!   That is swahili for "Good Journey", and it was for sure.    I'll tell more about it this evening.   For now, I just wanted to report that we got here safe and sound.
More anon!
8:20 PM – OK, I'm back!.   So let's see.   Where did I leave off?  Ah, yes!   Let's start with yesterday.  
We arrived in Dar Es Salaam at about 2:00 PM.    Meeting us at the airport was our good friend and driver Mashombo.   We met Mashombo several years ago when he first drove us from the airport to our hotel in Dar.   We quickly became good friends and he has been our preferred driver ever since.   We are able to contact him from the USA via texting to his cell phone, so it's usually very easy to connect with him before we travel.    We arrived at the hotel in down town Dar at about 4 PM.    Once we got to our room we relaxed for a while and refreshed ourselves before heading up to get some dinner at 6:30 PM.   Our experience is that dinner takes a while in Tanzania, so with that, we were able to head for bed at 9 PM.   That was good because at that time jet lag really starts to set it.    The good thing is, we are going to sleep at the right time to adjust our body clocks overnight. The next morning we woke up refreshed and ready to start the next leg of the trip, which is our Air Tanzania flight from Dar to Kigomo.   It's a 2 hour flight from the eastern side of Tanzania to the western most city.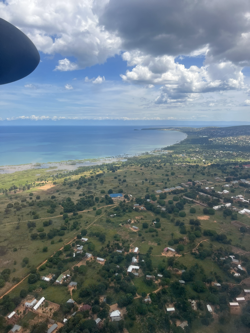 When we arrived in Kigoma we were greeted by Baraka.   He is one of the staff members at DWT involved in the finance department.   We drove into Kigoma city and had some lunch together.  Afterwards we stopped off to get a cell phone SIMM chip for my Android tablet.  We use the tablet for Internet access by tethering it to our other devices.   Once we had the tablet all set we began our final journey to Kisulu.   
When I first came to Kisulu in 2005, there was only a dirt road going from Kigoma to Kisulu.    The trip took over 3 hours back then and the road conditions were unsophisticated in terms of comfort.   It was a rough ride!  Now in 2022, the road is completely paved over.   The ride is smooth and it only takes an hour or so to make the trip.    What a difference!   You have to appreciate what folks have endured to travel around these parts for so many years.  I have to say, we arrived in much better shape than we ever have before.  
So here we are in Kisulu again, our home away from home.   Cathy and I have missed this place and the people here over the past 2 1/2 years.   I appreciate the Lord provisions in our lives that have given us the resources to travel and come here over that past 17 years.    I'm looking forward to what the Lord will have us do while were are here over the next couple of weeks.    For sure, there will computer work for us to do.  But, I'm also looking forward to our times of worship together with our friends at DWT.    
Tomorrow, we will spend some time at Lake Tanganyika College, mainly to deliver the new computer equipment we brought with us.   We may or may not get time to install the systems, but if not, we will get to it on Monday.    In the mean time, we'll be visiting nearby Murusi Church on Sunday morning.   We'll be participating in the worship service with our voices and guitar in hand.    I'm looking forward to that.