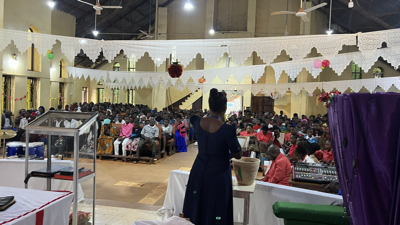 There is not much to report about Saturday as we just took it easy and did some catch-up from our travels.    I did go to Lake Tanganyika College to deliver the new computers we brought with us.   But it was a short visit to just check on things.    Monday I'll hit the ground running on helping setup the new systems and offer some training in configuring them for use with their network.   
Today was a different story.   We were quite busy with worship services at Marusi Church, which is on the east side of Kasulu.   Marusi Church is one of my favorite churches to visit.   I've been here many times.   However, this time I was asked to be the guest preacher for their 6:30 and their 9:00 services.   You might ask, why some much time between services?   It's simple.   There is very little time between services.   The 6:30 service started on time and ended at about 8:40.   The 9:00 service was even longer.  It ended shortly before noon.    Such are worship times in Tanzania.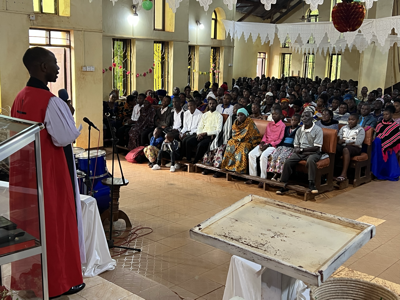 About the guest preaching – I got a text message from Bishop Emmanuel Bwatta on Saturday morning.  His message asked if I was comfortable with preaching at both services.   The folks at Marusi asked for me specifically.   Wow!  That was an honor and privilege for sure.   I thought about it and decided to accept the invitation.   I knew I did not have a lot of time to prepare, but when you are asked to serve, you serve!   Cathy and I also prepared a couple of songs to sing during the service.   One is called Forever Reign, the other is called God So Loved.   Both are pretty up-beat songs.   I try to keep to those types of worship songs because the people here are quite animated in their praises and love to sing and dance during worship.   I really wish you could experience it at least once.  Sunday worship is a joyous celebration in this part of the world.
So, back to the sermon.   I chose the gospel for today form the ACT Prayer Book, which is John 8:12-20.    I focused on verses 12 – 14 below:
Again Jesus spoke to them, saying, "I am the light of the world. Whoever follows me will not walk in darkness, but will have the light of life." So the Pharisees said to him, "You are bearing witness about yourself; your testimony is not true." Jesus answered, "Even if I do bear witness about myself, my testimony is true, for I know where I came from and where I am going, but you do not know where I come from or where I am going.
I won't go into the details, but I can report that the message was well received and appreciated.  
So now it is early evening and it's just about dinner time.   I'll end here for this posting.   Thank you all for your prayers while we are here in Tanzania.