Opps!   Looks like I skipped a day of posting.   I've been trying to post something every two days, but I forgot to do it last night.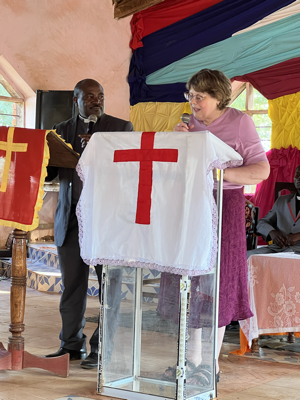 The past couple of days have been pretty routine for us.   I've been working at the college helping with minor questions and tasks that Bon has had for me to do.   I'm quite pleased that everything is in good shape at this point.   We did cover the procedure of backing up the Windows Servers.   That was important to go over as we had a problem a few months back where one of the servers had become corrupted and failed because of power outage problem.    I ended up rebuilding the server from scratch remotely from the USA.   I had to start the process at 1 AM our time (which was 8 AM East Africa time).  It took nearly 12 hours to complete with all of the software installs and so on.    I'd like to avoid that from ever happening again.   I think we have the backup procedure down now so a complete rebuild won't be needed in the future if we have a problem with the server.
While I've been working on computer tasks, Cathy has been working on a bible study that she will lead at a nearby church.   It was arranged by Bishop Bwatta that we should go there, and it made sense to us that Cathy lead things this time around.     We'll be heading out to do that soon.   I'll write more later after we get back this evening.   Until then…… 
We got back from the church and village of Muzye where we visited this afternoon. It was just a few miles outside of Kasulu.   As usual, when you arrive at a church in Tanzania, the greeting for visitors is always so welcoming.   For this occasion we were asked to come and lead a bible study with the church.  This time it was Cathy's turn to offer her services.   She shared her own story of going through breast cancer, working with passages from Ecclesiastes and from three Psalms that related to her story.   We also shared one of the songs we've done before, "Forever Reign".   We include a bridge verse in Swahili.  The words are "Moyo wangu utaimba Jesu" which means, "My heart sings Jesus".   The congregation really picked up on the verse and sang it boldly.   I'm hoping to do the same song this coming Sunday at the cathedral so I can record it and post to the site for you to hear.  This is a culture that loves to sing.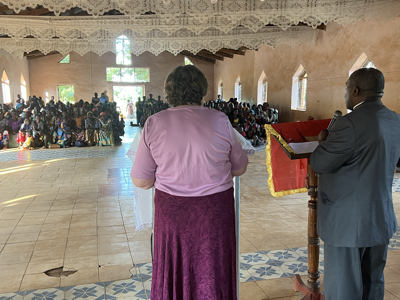 So that's it for today.  We'll have some down time tomorrow, which will be good.   It was a full week for us.  I'm looking forward to just taking in the gorgeous weather we are experiencing here in Kasulu.  Being up at about 3500 ft above sea level, it is dry and in the mid to upper 70's everyday.   You can't beat that!