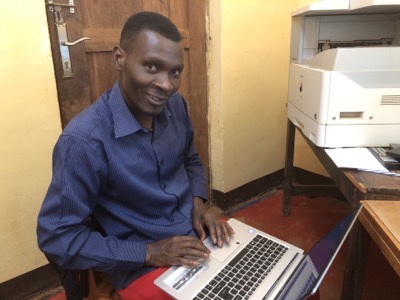 Today has been a typical day back in Kasulu.   It started with morning chapel, where Joe was the guest speaker / leader for the morning devotion.   After chapel and breakfast, we headed into town so I could work with Reginald Peter on the computer systems and Cathy and Joe would go to a store to purchase a katenge (it's a piece of printed cloth) for Cathy.    Reginald (picture to the left) heads up the college computer systems. He was.away last year for training on computer systems and is just getting used to the thin client network setup we have at the college.  I think they will be in good hands with him back on staff at the college.
We spent much of the morning just going over the current network configuration and reviewing the layout sheets I provided for them a couple of years ago.   They have added a new printer / copier that is very similar to the ones we have at my company back in the USA.   That made it easy to configure it to work with there network and has made it available to any of the computers that connect to the network.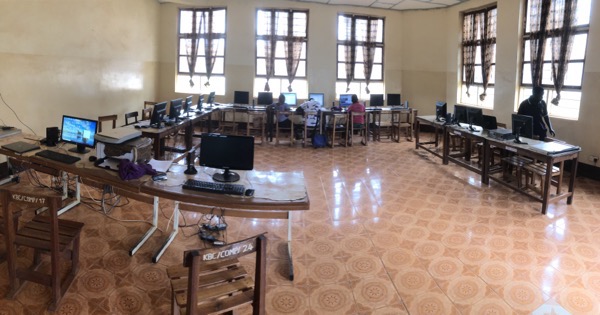 Now we are resting back at the compound.   I'm downloading some rather large files for my friend Festus for his music system.   I think they will take all night to download, so hopefully the Halotel network will stay online all night so I can complete the download.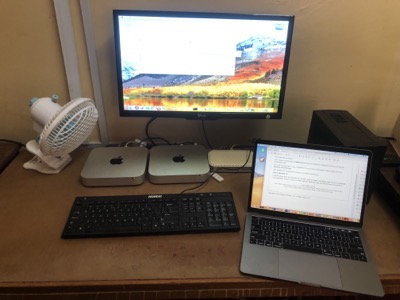 It's been a very good trip so far.    I give the Lord thanks for keeping us in his care and making even the travel delays a blessing for us.   I really wish we had more time this time around, but things at home will be expecting us hit the ground running next week.   I will admit to looking forward to a time in the not so distant future when we can have an extended stay here in Kasulu.   I'd love to run a "boot camp" training class for computer networking at the college for instance.   I'm sure we will be able to manage something like that in the future.   For now, we have to stick with short 2 to 3 week trips so they fit with our home and work schedules.
Bill
Sorry for the writing drop out.   We had an interesting time the past few days.   First was the numerous flight delays by Air Tanzania which started on Saturday and did not end until Sunday afternoon, when we finally got to Kigoma to meet up with our friends from DWT.  We were tired for sure, but we were glad to finally get to Kasulu Sunday evening.    
Today, I spent a fair amount of time at Lake Tanganyika College.   It was good to get there and start working on a list of things they had for me to do.   First was getting the Windows 2008 Server working so that the thin clients could communicate with it.   Somehow it's network addressing was changed, so I got that set and it was back in business.   Other things included networking a new Canon copier/printer with the servers and then reseting their wireless network.   Yup, somehow that got changed as well.   Whatever!   We got is all working again. 
Tomorrow we will be going with a rep from World Vision to the village of a child and family that we support.   I think I'll leave to Cathy to write about that tomorrow, as she is really the one who sponsors them.    It just interesting to note that when she asked World Vision to have her sponsor a girl from Tanzania several years back, that it turned out that she lives very close to Kasulu where we have been in partnership with DWT for all these years.   
Bill